Reception Area: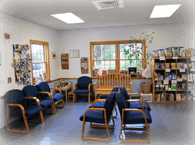 Our reception area allows you to be greeted immediately upon entering. The children's play area allows for any younger family members to be entertained during the veterinary visit. Often you will see Murphy our feline mascot wandering through the building.
Pharmacy and Laboratory: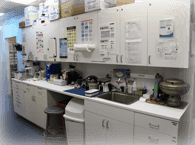 Our pharmacy stocks most of the medications needed by our patients, allowing the convenience of having your prescription filled and in hand when you check out of our office. Often administering medications can be a challenge for owners. We have the capability to formulate prescriptions into flavored liquids which are more readily accepted by our furry companions.
The laboratory is equipped with microscopes, centrifuges, in house microbiology capability and other equipment needed for routine tests. While we perform many routine tests in the hospital we send more complex tests to our outside laboratory with results available the next day in most instances.
Surgery: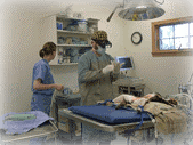 Our modern surgery suite allows us to perform a wide range of procedures for your pet. Sophisticated equipment monitors blood oxygen levels, EKG, and respiration rate and blood pressure during these procedures. We provide for a wide range of routine and complex surgical procedures. A surgical specialist is available for consultation and surgery on cases if needed.
Treatment and Radiology: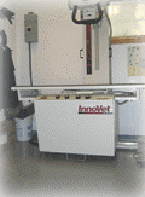 Our main treatment area provides for the room to treat patients in routine procedures and during sick visits. Kennels along the back of the treatment room allow the staff to monitor hospitalized pets at all times. In hospital digital x-ray capability allows us to visualize internal structures of your pet to help diagnose certain illnesses.
For more information on our services, facilities, or other general inquiries, please click here to contact us.